Vision and values
Princethorpe Junior School is part of the drb Ignite Trust, which currently has 9 schools in the family. Our approach is simple. We work together as a unique family of primary schools with one vision. 
A Commitment to Staff Wellbeing & Ensuring A Healthy Work-Life Balance
Princethorpe Junior School is committed to ensuring that staff are supported and encouraged to develop personally and professionally. We recognise that staff wellbeing has a positive impact on pupil achievement and the school's overall performance.
Princethorpe Junior School is committed to making sure that staff wellbeing is always considered and work-life balance is promoted so that each staff member is able to cope successfully with the demands in their lives, whatever the cause of stress.

A commitment to staff wellbeing and ensuring a healthy work-life balance will be part of the general school ethos which supports staff and ensures all employees are treated fairly and consistently
Our Vision
'All pupils achieve the highest standard of educational outcomes regardless of circumstance or background'
The drb Ignite Trust has been established through a shared belief that lives can be transformed by what goes on in schools. We work together to achieve outstanding pupil experience, excellence in education, impactful teaching and effective partnerships.
Our Values
As a family of schools, we have shared values that are critical to our vision and approach. They articulate how we work together. The values that underpin our work are: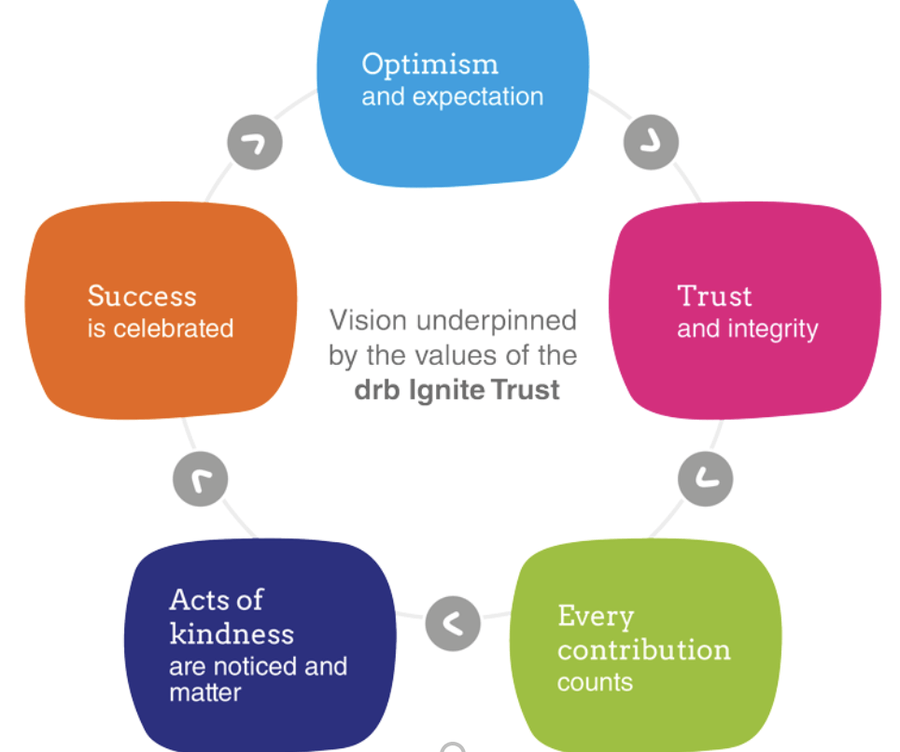 Our Principles: Achieving the Vision
As a school we consulted on what values we thought were appropriate for our community. These can be found below. They underpin all of our work.
Our choices:
Honesty
Kindness
Thoughtfulness
Creativity
Independence
Bravery
Responsibility
Empathy
Confidence
Patience